Strategic Management
In Hypergene, strategic goals are linked to operational plans and tangible results. Business plans, goals and KPIs are all defined in an intuitive interface. Commitments and activities are communicated and followed up in a way that encourages transparency, adherence and responsibility throughout the organisation. There are also numerous opportunities to improve activities within areas such as risk, compliance and internal control.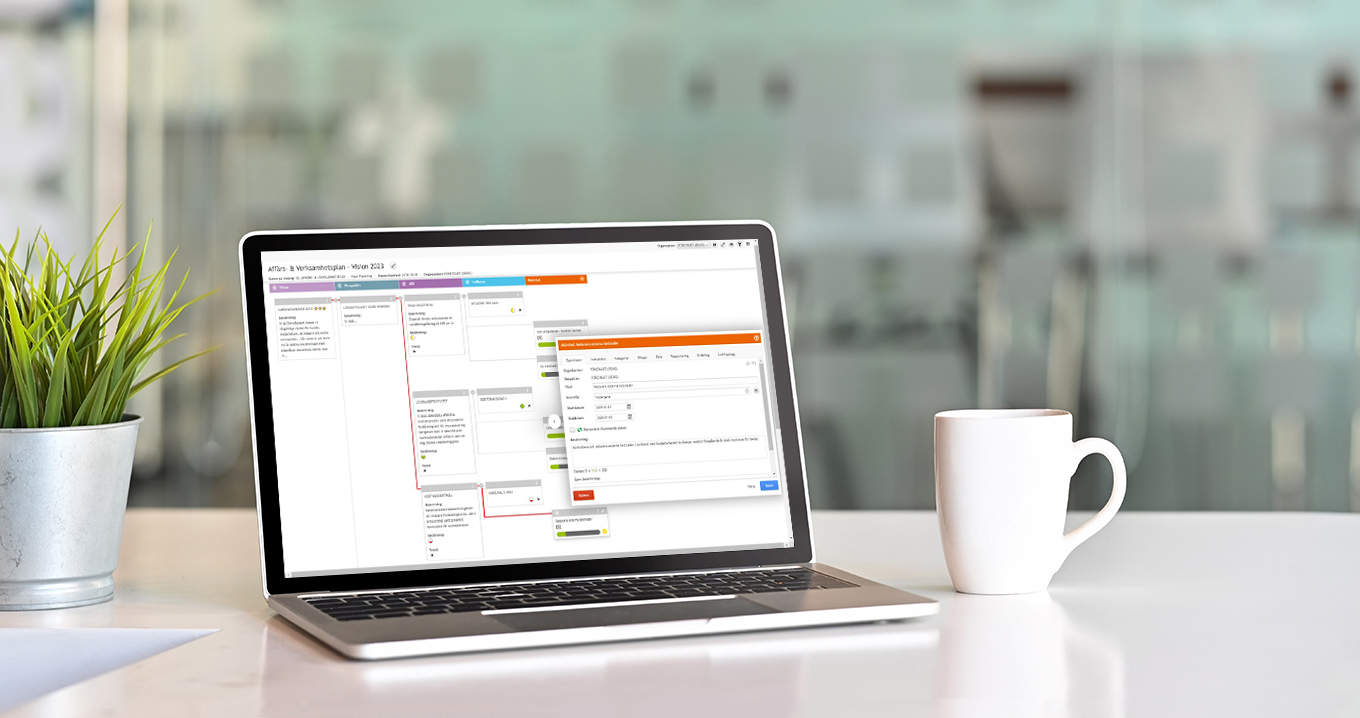 Management that delivers results
Research shows that 90 percent of all organisations fail to execute on their strategy. This is often the result of employees neither understanding nor having access to the strategy or the overall goals. Furthermore, they lack the tools needed to clarify the link between strategies, plans and activities – something that Hypergene fundamentally addresses.
Hypergene provides great flexibility and can be adap-ted to reflect your organisation's specific management models. Strategic initiatives can be linked to target areas and activities depending on your preferred structure. Overall plans and tasks are distributed to the rest of the organisation which is responsible for developing and defining the activities.
KPIs for continuous measurement can be linked to goals and roles, as well as activities designed to ensure that those goals are achieved. Using the same tools, employees can report back, comment on and change the status of the processes in which they participate.
This makes the management and overview of assignments significantly easier for managers and senior management teams. Dashboards provide a clear picture of operational development at an overall level and for parts of the organisation. Similar benefits are available to individual employees, who can see and understand their role in the business.
Overall we are extremely pleased with Hypergene's solution. It increases the level of quality in our budget processes and creates greater participation from our staff.

Maria Strandberg, Head of Group Controlling
Possibility to expand and customise
The product offers lots of possibilities for further development and enhancement. Some organisations choose to supplement their overall plans with, for example, budgeting, HR KPIs and business intelligence. Additional needs might include quality process management, increased internal control, risk management, and risk analysis for business-critical processes. Hypergene's flexible platform enables customisation and additions with very little effort.
The module for Strategic Management can also be easily linked to our other modules for Budgeting & Forecasting and Reporting & Analysis. This creates a powerful system for business intelligence and performance management, and enables the entire organisation to benefit from continuous and coherent quality and improvement work.
Built in support for:
Customisable management models and target hierarchies
Activity management with allocation of responsibilities and scheduling
KPI database
Text processing in a document framework
Workflows including authorisation and controls
Integration with business systems
Aggregate reporting and analysis organisation-wide
Example applications:
Business plans
Operational plans
Balanced Scorecard
Management by Objectives
Risk analysis
Quality plans
Environmental plans
Strategic Planning