What is Business Intelligence?
Business Intelligence (BI) is an umbrella term that describes how you and your organization can better understand your business and make better decisions by using methods and processes for the production and structuring of data and information.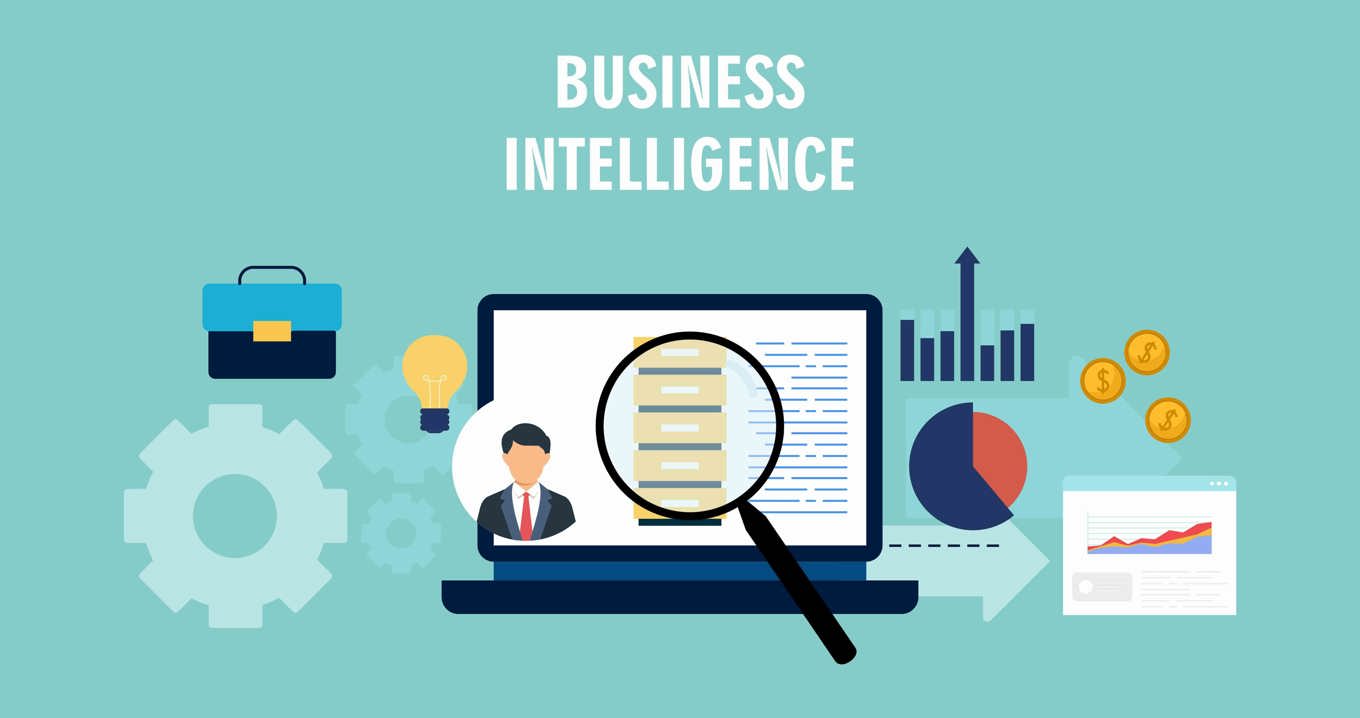 Business Intelligence can be seen as a combination of business analysis, data production, data visualization and the data infrastructure itself. Business Intelligence is also closely linked to the Business Intelligence tools that enable its use.
Through the integration of different source systems, data is stored in a data warehouse and the BI tools then give you many opportunities to crunch the data in order to analyse it in ways that meet your specific needs. In terms of systems integration, it is possible to work with Customer Relationship Management (CRM) systems, HR systems and Enterprise Resource Planning (ERP) systems.
The data and information produced is often visualized and role-adapted, in the BI tool, so that the decision-makers are more easily able to understand, analyze and make decisions based on the information.
Gartner, in 1989, defined Business Intelligence as "an umbrella term for concepts and methods with which to improve business decision-making by using fact-based support systems." A growing challenge since then is that 'facts' today consist of 'data' which are found in many different systems and files.
BUSINESS INTELLIGENCE SUPPORTS DECISION-MAKING
The insights gained lead to decisions which will take the business in the right direction. Business Intelligence is therefore often called 'decision support' and basically refers to the analysis and presentation of data.
Increasing amounts of data provide you with opportunities, but may also be regarded as unexploited if the data is not used. A decision support system enables you to make well-informed decisions through streamlined information processing and efficient reporting and analysis.
A good BI tool, therefore, needs to be able to take in data from Excel, integrate with many different source systems, and then make the data work together. The idea is that the BI tool will create more opportunities than each respective system would have created on its own.
Many times, the BI system will also contribute to reducing much of the manual work concerned with data collection and quality assurance. As a result, the data produced for decision support will be of a higher quality and more relevant – and, most importantly, be made available in the right form, to the right person at the right time.
The question about the availability of the decision support data is closely linked with the opportunities of creating and distributing reports (both internally and externally). In many businesses, this is a time-consuming manual task.
When evaluating BI tools, therefore, report functionality should be regarded as being as important as visualisation. Both parts are important in terms of effectiveness and are essential for making well-informed decisions.
WHY USE A BUSINESS INTELLIGENCE SYSTEM?
Your organisation becomes less dependent on key personnel.
You make better decisions.
You can measure results and target fulfillment.
The organisation acquires a common view of reality.
Quality of both data and decisions is raised.
Automation and the time it saves.
Strengths and weaknesses are identified. Potential problems are highlighted.
Increased operational efficiency.
Bottlenecks are identified.
Unnecessary costs are identified, and costs and risks can be cut across the board.
You save time (streamline) and enable new forms of collaboration. Internal processes are improved.
Potential new revenue streams are identified and opportunities within existing revenue streams are made visible.
New potential competitive advantages can be found.
In conclusion, Business Intelligence systems do away with large amounts of manual handling and facilitate faster and better decisions. The results achieved depend on how well your system meets your needs, how good the analysis is and how well the follow-up is handled.
BUSINESS INTELLIGENCE AND KPI'S
Concepts such as metrics and KPI's are important within Business Intelligence. They are used to monitor and evaluate how well the business is performing towards achieving its goals. KPI's can, among other things, be set to measure profitability, business activities and financial performance. One common pitfall is that too many KPI's may be used, which can make it difficult for the organization to know which of the metrics are the most important.
A BI tool can work with metrics and KPI's differently, depending on how the organisation has chosen to implement the tool. It is important to agree on how KPI's are to be defined, which data are to be used for calculating the KPI's and, naturally, which KPI's are to be used.
Otherwise, the risk is that the business operations will work with different views of reality. It could also lead to the organisation working towards different goals or working with priorities that might sometimes be in conflict with one another (goal conflicts).
Ideally, a BI tool should be able to combine different data points so as to create KPI's which are as relevant to the business as they can possibly be. An example from the real estate sector is that data relating to revenue and the number of leased square meters can be found as a measure in different systems. If the data points are combined, then income per square meter (rental value) can be monitored and analyzed by the BI tool.
Real estate company Stena Fastigheter uses its BI tools to get a good overview of its property portfolio, to analyse the data and make it available for reporting and analysis work, to ensure the quality of the data and to develop a common approach to work through which to achieve the overall objectives. They also realised that they could see an increased sense of responsibility, engagement, and level of participation in the organisation.